Reviews of 6 Popular Face Masks for Child Care, Parenting & Venturing Outdoors
Face masks help prevent the spread of diseases, as most of us have heard now due to the current health crisis aka Coronavirus aka COVID-19. The Centers for Disease Control and Prevention (CDC) now recommends that everyone wear at least cloth-made face coverings when in public settings, while also observing social distancing measures. Similar measures are being mandated by many cities and states.
Before you buy (or make) a mask, you should first understand that in most cases, face coverings help people who may have the virus (and don't realize it) from giving it to people around them. This may seem counterintuitive, but that's because true respirators, the N95 masks and other Personal Protection Equipment (PPE) you've seen medical personal wear, are generally used to protect the wearer, presuming he/she is in an environment that may include infected people. It's also important to note that no 'off the shelf' face mask can guarantee protection from droplet transmission by viruses like COVID, but when we all wear them, they can slow down the spread (i.e., flatten the curve).
Again, no mask will completely protect you from COVID-19. For a quick visual on why, we'll be taking a bandanna (our first mask review!) as an example:
The biggest reason masks can't stop COVID-19 is simply due to just how small the particles are. See that little blue dot next to the big blue dot? That little dot represents a 5 micrometer particle, or something that is 4,066% bigger than a coronavirus particle which sits at 0.12 micrometers! What masks do, though, is slow down the spread of particles by inserting barriers. For example, if you were in an elevator with someone, you'd probably prefer them sneezing into their arm versus sneezing into the air. Is either sanitary? No, but you would at least appreciate the arm sneeze.
Types of Face Masks for Adults
Let's take a look at the most common masks we could find on sources like eBay and Etsy. These online marketplaces are stocked with sellers that have all sorts of face masks for sale, so we purchased different ones to review, knowing that we'd need to wear them around the house, near children, or when doing a run to the store. Please note: the CDC suggests that …"any face covering should not be placed on young children under age 2, anyone who has trouble breathing, or is unconscious, incapacitated or otherwise unable to remove the mask without assistance." Here's what we learned:
#1 The Bandana
Scarcity: Very common
Cost: $3 or more
Colors: Many
Fits: Comfortable
Everyone reading this probably has a bandanna tucked away somewhere, which is the beauty of this mask. Another nice thing about wearing a bandana is that it works for different sized faces, including beards, and is washable. The downside of wearing a bandanna is that it's not always easy to secure around your face, but the upside is that since a bandanna worn this way is folded in half, you can easily insert a paper towel between the folds for an added filtration layer.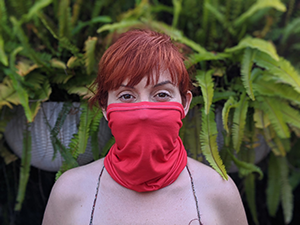 #2 The Neck Gaiter
Scarcity: Very common
Cost: $20 or more
Colors: Many
Fits: Very comfortable
Similar to a bandanna, a neck gaiter has been used for decades to protect everyone, from fishermen to skiers, from the elements. Is it going to prevent disease? Well, it's certainly going to cover your face, and it's pretty comfortable when you do so as there's nothing to tie (you slip a neck gaiter over your head, like a large sock with the toes cut off). The nice thing about both bandanas and neck gaiters, besides being washable, is that you can also add layers, whether a scarf or perhaps a mask under the cloth, for additional coverings. Again, as the CDC stated: wearing any cloth face covering may help in preventing the spread of the virus.
#3 The Dust Mask
Scarcity: Common
Cost: $0.25 each, sold in packs
Colors: White
Fits: Alright
These are the most common type of face masks most people are familiar with. Before COVID-19, the typical users of this mask were usually cutting wood or nailing up drywall, as dust masks primarily protect your lungs against your basic irritants that float into the air during construction and cleaning activities. Built from paper-thin material, they're simply not designed to filter out anything beyond that. They also fit loosely around your face, though they usually have an aluminum piece around the nose for a more custom fit. All that said, dust masks are cheap, disposable, and could be worn in conjunction under a bandanna or neck gaiter, a combination that will give you additional filtration.
#4 The Cloth Mask with Pocket
Scarcity: Fairly common
Cost: $20+ each
Colors: Varied
Fits: Not bad
These masks are all over marketplaces, like Etsy in particular, because of their DIYness – anyone can take some fabric and customize it into a mask. What can take these masks a step further is the ability to sew a front 'pocket' on the inside of the masks, where you can insert additional filters. The mask we purchased came with two individually wrapped, disposable filters. It's worth noting that the filter inserts add additional filtration, but you won't find N95 or higher quality inserts for cloth masks. Ours came with a filter that was stamped with n2.5 on it, which we Googled and learned was a weak, carbon-based filter. That said, these masks are convenient, they come in a variety of colors and patterns, and they are pretty plentiful out there to buy.
#5 The Surgical Mask
Scarcity: Fairly common
Cost: $0.30+ each, sold in packs
Colors: White
Fits: Varies
A surgical mask, despite the name, is a disposable 3 ply face mask that is typically three or more layers. It's used primarily to prevent liquids and large particle droplets, and it sits loosely on the face. They come in a variety of builds, but generally have the multilayered look. Each layer has a function; top repels away liquids, middle filters some basic pathogens, and the inner absorbs moisture from exhaled air. Because of their loose fit, however, a cough or sneeze by the person wearing this mask, can easily escape out of the sides of the mask.
#6 The N95 Respirator Mask
Scarcity: Rare (reserved for emergency workers)
Cost: $1+ each, sold in packs
Colors: White
Fits: Well
Prior to COVID-19, the most common use outside of the health world for these masks was for people in high particle and chemical environments. They also typically come in packs inside emergency kits. N95 respirators have a good, close fit around the mouth and nose, forming a seal. These masks have good filtration against bacteria and mold, as well as larger particle items. Even so, an N95 mask cannot prevent the coronavirus particles from entering in, if you've noticed from pictures inside COVID-19 infected areas, the N95 mask is typically one part of a multilayered effort to keep a medical worker safe. (full disclosure: we didn't want to buy this and take away from important use – we found this mask in an emergency earthquake kit stored in a garage!)
Final Thoughts
When worn, none of the masks above prohibited children (or adults) from hearing or understanding what the mask wearer is saying, which is important.  A few reminders before you stock up on masks:
Face masks do not help limit distribution on the exhale and/or inhale of virus particles. Essentially, wearing a face mask protects those around you, not the other way around
Face masks also help contain the spread of viral particles from an infected person's mouth, onto the surfaces below and around them. In some cases, people who touch their face more often may be prevented from doing so because of their mask.
Final note: of all the masks worn, our model enjoyed the comfort of the neck gaiter the most, and combined it with the dust particle mask (hidden under) for a multilayered filtered solution. Your results will vary, of course. Stay safe out there!
Additional Resources:
Las máscaras faciales ayudan a prevenir la propagación de enfermedades, como la mayoría de nosotros hemos escuchado ahora debido a la actual crisis de salud también conocido como Coronavirus también conocido como COVID-19.
Los Centros para el Control y la Prevención de Enfermedades (CDC) recomiendan ahora que todos usen al menos revestimientos faciales hechos por tela cuando estén en entornos públicos, al tiempo que observan las medidas de distanciamiento social. Muchas ciudades y estados están exigiendo medidas similares.
Antes de comprar (o hacer) una máscara, primero debe entender que en la mayoría de los casos, las cubiertas faciales ayudan a las personas que pueden tener el virus (y no se dan cuenta) de dárselo a las personas que los rodean. Esto puede parecer contraintuitivo, pero eso se debe a que los respiradores verdaderos, las máscaras N95 y otros equipos de protección personal (EPP) que has visto desgaste personal médico, generalmente se utilizan para proteger al usuario, presumiendo que está en un ambiente que puede incluir personas infectadas. También es importante tener en cuenta que ninguna máscara facial "fuera del estante" puede garantizar la protección contra la transmisión de gotas por virus como COVID, pero cuando todos los usamos, pueden ralentizar la propagación (es decir, aplanar la curva).
Una vez más, ninguna máscara le protegerá completamente de COVID-19. Para una visión qué, vamos a tomar un pañuelo (¡nuestra primera revisión de máscaras!) como ejemplo:
La razón más grande por la que las máscaras no pueden detener COVID-19 se debe simplemente a lo pequeñas que son las partículas. ¿Ves ese pequeño punto azul al lado del gran punto azul? Ese pequeño punto representa una partícula de 5 micrómetros, o algo que es 4,066% más grande que una partícula coronavirus que se encuentra a 0,12 micrómetros! Lo que hacen las máscaras, sin embargo, es ralentizar la propagación de partículas mediante la inserción de barreras. Por ejemplo, si estuvieras en un ascensor con alguien, probablemente preferirías que estornudaran en su brazo en comparación con estornudar en el aire. ¿Alguno de los dos es higiénico? No, pero al menos apreciarías el estornudo del brazo.
Tipos de máscaras faciales para adultos
Echemos un vistazo a las máscaras más comunes que podríamos encontrar en fuentes como eBay y Etsy. Estos mercados en línea están llenos de vendedores que tienen todo tipo de máscaras faciales para la venta, por lo que compramos diferentes para revisar, sabiendo que tendríamos que usarlos alrededor de la casa, niños, o una carrera a la tienda. Esto es lo que aprendimos:
#1 La Bandana
Scarcity: Costo muy común
Cost:  $3 o más
Colores:  MuchosSe
adapta:  Cómodo
Todo el mundo leyendo esto probablemente tiene un pañuelo escondido en algún lugar, que es la belleza de esta máscara. Otra cosa agradable acerca de usar un pañuelo es que funciona para caras de diferentes tamaños, incluyendo barbas, y es lavable. La desventaja de usar un pañuelo es que no siempre es fácil de asegurar alrededor de la cara, pero la ventaja es que ya que un pañuelo usado de esta manera se dobla por la mitad, se puede insertar fácilmente una toalla de papel entre los pliegues para una filtración de capa adicional.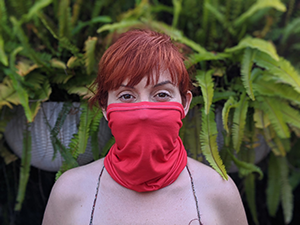 #2 La Gaiter
Scarcity del Cuello: muy común
Cost:  $20 o más
Colores:  MuchosSe
adapta: Muy cómodo
Al igual que un pañuelo, una polaina de cuello se ha utilizado durante décadas para proteger a todos, desde pescadores hasta esquiadores, de los elementos. ¿Va a prevenir enfermedades? Bueno, sin duda te cubrirá la cara, y es bastante cómodo cuando lo haces, ya que no hay nada que atar (deslizas una polaina del cuello sobre tu cabeza, como un calcetín grande con los dedos cortados). Lo bueno de los pañuelos y los polainas del cuello, además de ser lavable, es que también puedes añadir capas, ya sea una bufanda o tal vez una máscara debajo de la tela, para cubrir tejas adicionales. Una vez más, como los CDC afirmaron: usar cualquier cubierta facial de tela puede ayudar a prevenir la propagación del virus.
#3 La Máscara de Polvo
Scarcity: Costo común
Cost:  $0.25 cada uno, se vende en paquetes
Colores:  Blanco
Se Adapta:  Muy bien
Estos son el tipo más común de máscaras faciales con las que la mayoría de la gente está familiarizada. Antes de COVID-19, los usuarios típicos de esta máscara generalmente cortaban madera o clavados en paneles de yeso, ya que las máscaras antipolvo protegen principalmente los pulmones contra los irritantes básicos que flotan en el aire durante las actividades de construcción y limpieza. Construidos a partir de material delgado de papel, simplemente no están diseñados para filtrar nada más allá de eso. También caben libremente alrededor de la cara, aunque por lo general tienen una pieza de aluminio alrededor de la nariz para un ajuste más personalizado. Dicho esto, las máscaras de polvo son baratas, desechables y podrían usarse en conjunto bajo un pañuelo o una polaina para el cuello, una combinación que le dará una filtración adicional.
#4 La Máscara de Tela con Pocket
Scarcity: Costo bastante común:
Cost:  $20+ cada
color:  Variado
Se adapta: No está mal
Estas máscaras están en todos los mercados, como Etsy en particular, debido a su bricolaje – cualquiera puede tomar un poco de tela y personalizarlo en una máscara. Lo que puede llevar estas máscaras un paso más allá es la capacidad de coser un "bolsillo" delantero en el interior de las máscaras, donde puede insertar filtros adicionales. La máscara que compramos venía con dos filtros desechables envueltos individualmente. Vale la pena señalar que las inserciones de filtro añaden filtración adicional, pero no encontrará inserciones N95 o superiores para máscaras de tela. El nuestro venía con un filtro que estaba estampado con n2.5 en él, que Googled y supimos que era un débil filtro basado en carbono. Dicho esto, estas máscaras son convenientes, vienen en una variedad de colores y patrones, y son bastante abundantes por ahí para comprar.
#5 La Mascarilla Quirúrgica
Scarcity: Costo bastante común:
Cost:  $0.30+ cada uno, se vende en paquetes
Colores:  BlancoSe
ajusta:  Varía
Una máscara quirúrgica, a pesar del nombre, es una mascarilla facial desechable de 3 capas que suele ser de tres o más capas. Se utiliza principalmente para prevenir líquidos y gotas de partículas grandes, y se sienta libremente en la cara. Vienen en una variedad de construcciones, pero generalmente tienen el aspecto multicapa. Cada capa tiene una función; la parte superior repele los líquidos, filtra el medio algunos patógenos básicos, y el interior absorbe la humedad del aire exhalado. Debido a su ajuste suelto, sin embargo, una tos o estornudo se escapa fácilmente por los lados de la máscara.
#6 La Máscara de Respirador N95
Scarcity: Raras (reservadas para trabajadoresde emergencia)
Costo:  $1+ cada uno, se vende en paquetes
Colores:  BlancoSe
adapta:  Bueno
Antes de COVID-19, el uso más común fuera del mundo de la salud para estas máscaras era para personas en ambientes químicos y de partículas altas. También suelen venir en paquetes dentro de kits de emergencia. Los respiradores N95 tienen un buen ajuste estrecho alrededor de la boca y la nariz, formando un sello. Estas máscaras tienen una buena filtración contra bacterias y moho, así como elementos de partículas más grandes. Aun así, una máscara N95 no puede evitar que las partículas de coronavirus entren, si usted ha notado en imágenes dentro de las áreas infectadas de COVID-19, la máscara N95 es típicamente una parte de un esfuerzo multicapa para mantener a un trabajador médico seguro. (revelación completa: encontramos esta máscara en un kit de terremoto de emergencia!)
Pensamientos finales
De todas las máscaras usadas, nuestro modelo disfrutó de la comodidad de la polaina del cuello más, y lo combinó con la máscara de partículas de polvo (oculta debajo) para una solución multicapa. Sus resultados variarán, por supuesto. Algunas cosas adicionales a considerar:
Las máscaras faciales no ayudan a limitar la distribución en la exhalación y/o inhalar partículas de virus. Esencialmente, usar una mascarilla protectora protege a los que te rodean, no al revés
Las máscaras faciales también ayudan a contener la propagación de partículas virales de la boca de una persona infectada, en las superficies debajo y alrededor de ellas. En algunos casos, las personas que se tocan la cara con más frecuencia pueden evitar lo que hagan debido a su máscara.
Recursos adicionales: