5 Child Safe Cleaners You Should Be Using & 3 That You Should Never Use
Now that parents are dealing with a pandemic on top of all of their already many responsibilities, everyone has had to become a clean freak. Aside from wearing masks and practicing social distancing, the best way to defend against infection from COVID-19 (aka coronavirus) is to frequently wash your hands and be reasonably meticulous with cleaning all surfaces. Parents and those in the Child Care industry are going to be cleaning more than ever, and that is a good thing. Creating cleaner daycare and play environments means children are less exposed to bacteria and viruses, so they're overall healthier, right?
There's just one major problem, cleaners, sanitizers, and disinfectants are made with harmful chemicals in order to destroy those anxiety-inducing germs. Ok, so the option is to switch to a surface cleaner made with more natural and gentle ingredients. Well, there's another problem, many of the gentler products lose their ability to kill the coronavirus.
I wanted to make it easier for parents and Child Care providers to know which cleaners could give them peace of mind, while also being as safe as possible for children. I have painstakingly combed through the CDC's list of approved disinfectants that can kill the coronavirus (so you don't have to) to identify cleaners that are made with the least harmful chemicals possible. I have also provided a list of harsh products that are commonly bought, that households shouldn't be using.
Products That Are Safe
1. Bona PowerPlus Antibacterial Hard Surface Floor Cleaner – $7.99
The key to this product is that its main cleaning agent is Hydrogen Peroxide, a compound that in other products is used to disinfect open wounds and burns, but also is helped by Citric Acid, the compound found in lemons. Bona Floor Cleaner is meant for all different types of floors, including stone, tile, laminate, and vinyl floors. It is designed for everyday use, so it is made without dyes, and will not leave streaks.
2. Lysol Bleach Free Hydrogen Peroxide
This is another product that uses Hydrogen Peroxide, a low respiratory irradiation risk compound that still serves as an approved disinfectant. This Lysol product is an all-around surface cleaner that uses no bleach, one of the harmful, commonly used cleaning compounds. The Environmental Working Group gives this product an A in safety.
3. Windex Multi Surface Disinfectant Cleaner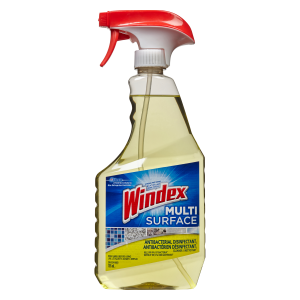 Instead of using hydrogen peroxide, this Windex product uses L-Lactic Acid, another safer disinfectant alternative to bleach. This cleaner is also optimized for several different surfaces, and dries quickly so that surfaces don't stay wet and sticky. The Environmental Working Group gives this Windex product a B on Safety.
4. Clorox Bio Stain and Odor Remover 
Now we get into the territory of harder to find products. This is yet another product that uses hydrogen peroxide, but this product is special in that it may be especially useful for rowdy households or active daycare centers. This cleaner works both on hard surfaces, and soft, porous surfaces, and can get rid of bio- stains like urine, feces, vomit, sweat, or blood. The Environmental Working Group rates this product an A on safety.
5. Purell Professional Surface Disinfectant
This is a powerhouse of a product, similar to Clorox Bio Stain and Odor Remover, it's harder to find. This product's main disinfecting agent is Ethanol, the same used in Purell Hand Sanitizer. This surface cleaner is under the EPA's lowest possible toxicity rating, but also has earned the EPA's Design for Environment certification and can disinfect in as little as 30 seconds. In addition, this surface cleaner is safe for food contact surfaces like cutting boards or kitchen counter-tops.
Products that Aren't Safe
1. Clorox Multi Surface Cleaner+ Bleach
This is a classic cleaner that people see everywhere on the shelves. As a cleaner, and as a disinfectant it works great. But its main cleaning ingredient is bleach, which has been shown to be a respiratory irritant, especially for those with asthma, and can cause severe burns and eye damage if significant contact is made. Stay away from staple bleach cleaners like these to make your household safer for your children
2. Lysol Clean & Fresh Multi Surface Cleaner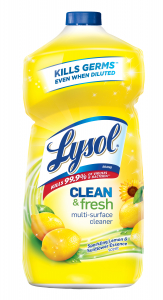 This is another classic that is seen everywhere on shelves, but this product has a compound that is classified as quaternary ammonium, or a "Quat". Quats, much like bleach, can cause respiratory irradiation, especially for those with asthma, and, again, can cause severe skin burns and sever eye damage. There is no need to gravitate toward these harmful cleaners when there are safer alternatives.
3. DIY Home Cleaners
The last surface cleaner to avoid is homemade cleaners. Do not make a chemistry lab out of your home! There are several serious consequences that can come about when trying to mix different products to make a custom solution. Mixing bleach and isopropyl alcohol can make chloroform, which needs no mention for its potential danger. Mixing bleach and vinegar can make a seriously potent and near fatal compound that lurks in the air. Even spilling rubbing alcohol can get on a person's skin and cause poisoning. If using more natural mixtures like white vinegar with lemon juice, there's no actual disinfecting taking place, which defeats the purpose.
Final Thoughts
When going about making your home safer for children, it's important to think of all the different factors at play. Keeping in mind the potency necessary to kill the nasty coronavirus, and the need for gentler chemicals, the Purell Professional Surface Disinfectant seems like the best choice. It is the least possible toxic cleaner, its compounds are safe to touch, and it can be used around food. However, there are other products in the list, and if Purell isn't available, that's ok. Just make sure to always keep children in mind when choosing a cleaning product as an additional layer of defense in the fight against coronavirus.